Amazon Echo 2 Vs Google Home Vs Echo Plus Best Smart Speakers
Amazon Echo 2 Vs Google Home Vs Echo Plus Best Smart Speakers 2018
Amazon has yet another offering in the market, the Echo Plus. While its presence definitely makes the market more interesting, there's no doubt that it will cause a lot of confusion among the customers.
Keeping this in mind, we're going to help you pick out the best smart speaker for your home. We will compare the 2nd gen Amazon Echo with the Echo Plus and Google Home.
Amazon Echo 2 Vs Google Home Vs Echo Plus Best Smart Speakers
This is the second iteration of Amazon's popular Echo smart speaker. This comes with a slightly revamped set of features and a reduced size, making it easier to carry around. This particular version also introduces a audio jack on the back and removes the volume dial on the top. It will work with most Bluetooth speakers as well. As is expected, you can also control smart home appliances using the Echo.
Of course, you can also make/receive calls, play music (Amazon Music, Spotify or Pandora), check for the weather, and so on. It's a pretty good addition to the Echo lineup and definitely an upgrade from the predecessor, although the size has shrunk somewhat. Don't let this fool you, however, as the Echo contains a 2.5-inch woofer as well as a 0.6-inch tweeter within its slender exterior. The speakers are loud and crisp, although the bass could have been better.
The Echo can also offer customers free voice calls in the U.S., Canada and Mexico. At 821 grams, the speakers are definitely not light, but considering the kind of features packed in there, this isn't a massive surprise. The Echo also comes with 7 microphones, all placed on the top, so your voice can be heard even if there's music playing in the background. Another major change here is the selection of colors for the customers. You can now pick between Charcoal Fabric, Oak Finish, Heather Gray Fabric, Sandstone Fabric, Walnut Finish. Any of these variants will set you back by only $99.99, which is perhaps the Echo's key selling point. It's compact, loud, smart, and affordable. Perfect for those looking to try out a smart speaker.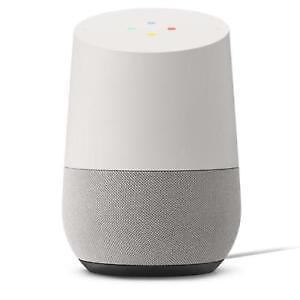 This is Google's answer to the Amazon Echo. Although Google arrived slightly later to the smart speaker market, the company was preparing for quite a while. The result is the Google Home, which has a slightly unconventional shape, making it stand out amongst voice assistants. The appeal of this product is that it supports Google services, extending your reach beyond the common queries and performing some native tasks on your phone without having to lift a finger. The Alexa does this too, but it is somewhat lacking when we compare Google's suite of features.
As far as the ecosystem is concerned, it's heavily dependent on which platform you want to go with. The good news is that you're not going to be disappointed either way. It's a pretty attractive product, and has features to rival most competitive smart speakers. The speakers, firstly, are said to be better overall in terms of bass production. While the Echo will probably fare better in terms of loudness. Google Home supports streaming music from Google Play Music, Pandora, Spotify, TuneIn, YouTube MUSIC, iHeartRadio etc, which offers up a vast collection of music for the customers.
You can use Bluetooth to share content and even pair with other speakers. This is the company's primary smart speaker, which was followed by the release of the Home Mini and the Home Max. The standard Google Home will set you back by $114. You can't find it on Amazon, so you will probably have to look for alternative retailers, like eBay for example. You can also buy it directly from the Google Store for $129. Even if it's slightly expensive compared to the Echo, I feel the premium price tag is justified if you are invested in Google's ecosystem.
This is Amazon's most recent offering, and is slightly bigger, thus justifying the "plus" moniker. The reason it's bigger is to accommodate a dedicated smart home hub (ZigBee) within the body. This, in addition to the 2.5-inch woofer and the 0.8-inch tweeter take up quite a bit of space on the device. It costs $149.99, and for that premium price tag, you're getting all the features from the 2nd gen Echo, plus a smart home hub built in. Amazon's product listing page mentions that the tweeter on the Echo Plus is slightly larger in size as well. There are no other major differences to talk about here. If you want to save on getting a smart hub separately, the Echo Plus is an excellent option. It can control smart switches from Philips Hue, GE, and Yale in addition to lights, plugs, and locks made by ZigBee.
It's a fascinating product, no doubt, but does it warrant the $50 premium over the 2nd gen Echo? Well, it highly depends on what you want from your smart speaker. I personally think it's a good deal, though.
Verdict
As we've discussed in length above, all three devices have their own set of features and target audience. But if you're looking from an impartial perspective as someone new to the world of smart speakers, I would definitely suggest the $100 Echo, simply for its universal appeal. If you want to add a smart hub to the mix, spending another $50 shouldn't be concerning for the customers.
As good as the Google Home is, it's still catching to Amazon in many respects. Ordering groceries, for example, is only supported on Walmart right now, while Amazon is undoubtedly the king of online stores. A simple voice command to Alexa can add items to your cart and even place an order for you. Features like these end up making my life a whole lot easier. While the Google Home isn't there yet, we're fairly certain that subsequent models will catch up. If you're looking for a more functional Google speaker, the Google Home Max is an excellent option.
(Visited 13 times, 1 visits today)